SPECTRAL MUSIC - LECTURE/PERFORMANCE BY ANNELIES VAN PARYS & GOEYVAERTS TRIO
Concertgebouw Brugge
3 April 2019 - 20:00

Concertgebouw Brugge

For centuries, composers searched the sonorous world for unknown and untouched territory. 'Spectral' composers explored sound itself, examining every possible gradation of pitch and timbre: not just high and low, and long and short, but also deep, into and beyond the core... Annelies Van Parys is such a spectral composer. In this lecture/performance – together with musicologist Klaas Coulembier and the Goeyvaerts Trio – she reveals in a way that is accessible to everyone the secrets of her compositions.

©Mats Bäcker
Annelies Van Parys
ANNELIES VAN PARYS RECIEVED THE KLARA FOR BEST COMPOSER AND FOR MUSIC PERSONALITY OF 2018
| | | |
| --- | --- | --- |
| On Friday, March 22, 2019, The Klara's - Classical Music Awards were awarded for the 9th time. Annelies Van Parys received The Klara for Best Composer ánd Music Personality of 2018 from Klara manager Chantal Pattyn. | | ©Maxim Verbueken/Klarafestival |
From the jury report: Which other artist could match this: In one year at least four significant premières including "A War Requiem" as the official closing moment for the 14-18 commemoration ... The music was confronting, it was ruthless and spectacular. In every single note ... She wrote the chamber opera "Usher" upon the request of the Deutsche Staatsoper Unter den Linden Berlin and Folkoperan Stockholm. Van Parys always knows how to charm. Her music touches all your senses. Annelies Van Parys is a composer and artist that you can't get around any more, she is the music personality of the year.
Teun Vonk
A SENSE OF GRAVITY
STRP FESTIVAL
STRP Festival, Klokgebouw, Eindhoven (NL)

Until 7 April 2019

A Sense of Gravity premieres at STRP Festival. This immersive installation offers you the sensational bodily experience of defying gravity.

Teun Vonk, A Sense of Gravity ©Floris Braakman
The project A Sense of Gravity started with Teun Vonk questioning: How can I challenge the logic of gravity, of the bodily perception of gravity, with a machine or installation? Can I expand the boundaries of our everyday perception of gravity?
A Sense of Gravity is based on artistic research and interdisciplinary collaborations, blending the boundaries between science, technology, design and visual art
While being immersed in the installation, the viewer experiences a bodily sensation of weightlessness. This experience causes a new perspective and perception of gravity on an individual level. With a Sense of Gravity, Teun Vonk creates awareness of our human sensibility and new perspectives on the relevance of our physical being in the digital culture of the future.
https://strp.nl/program/a-sense-of-gravity
https://www.teunvonk.nl/a-sense-of-gravity/
Lawrence Malstaf
Scenography for Dette Barnet/Cet Enfant
5 April 2019
until 5 June 2019

Det Norske Teatret, Oslo (NO)

Dette Barnet - to all who are children, have children, have been children, should have children, know a child or remember a child.

Directed by Jon Tombre
Composition by Amund Sjølie Sveen

©Fin Serck-Hanssen
David Bowen
CLOUD PIANO
CYBERNETIC CONSCIOUSNESS [?] QUANTUM HORIZON
Itaú Cultural, São Paulo (BR)

Until 19 May 2019

cloud piano (2014) plays the keys of a piano based on the movements and shapes of the clouds. A camera pointed at the sky captures video of the clouds. Custom software uses the video of the clouds in real-time to articulate a robotic device that presses the corresponding keys on the piano. The system is set in motion to function as if the clouds are pressing the keys on the piano as they move across the sky and change shape. The resulting sound is generated from the unique key patterns created by ethereal forms that build, sweep, fluctuate and dissipate in the sky.

http://www.itaucultural.org.br
http://www.dwbowen.com/cloud-piano

David Bowen, cloud piano, 2014
Lawrence Malstaf
Double Compass
Solo-exhibition
TETEM, Enschede (NL)

Until 5 May 2019

Compass is an orientation machine to wear around your waist. It directs you left and right while walking. It guides you through virtual corridors, rooms and doors programmed in the physical exhibition space, or any location. The apparatus imposes an attraction or repulsion on your waist, like you are in a magnetic field. You can explore this environment and discover a tactile architecture. The machine is programmed to make you follow an invisible map but you can choose between resisting to the machine or giving in and letting yourself be guided.

For the solo exhibition Double Compass at TETEM, Lawrence Malstaf developed a second machine, both Compasses not only follow an invisible map, but also interact with each other.

Lawrence Malstaf, Compass 02005 ©Christina Bakuchava
Kris Verdonck
DETAIL
Tendencies '19 - The overview Effect
27 April 2019
until 9 June 2019

BOZAR, Brussels (B)
The TENDENCIES exhibition focuses on works that question scientific and technological innovations as much as they incorporate them. For this fourth edition, it looks at our relationship with possible futures, be they dystopian or utopian.
The sun shone, having no alternative, on the nothing new.
(Samuel Beckett, Murphy)
In the installation DETAIL, a large and massive boulder hangs on the ceiling. It is hanging on a steel cable, on a ball bearing, allowing it to fully turn around its axis. The ball bearing is put in motion by a steel wheel rotated by a motor which takes its energy from solar panels. The whole chain leads to a relatively simple situation: whenever the sun shines, the boulder turns around its axis. Once the sun shines, and therefore the stone starts to revolve, the mechanism is simultaneously unrelenting: the fatalism of a world that has to and will turn. A mobile with sunlight. A surreal image with an undertone of danger and yet fascinating at the same time.
The whole (complicated) technical construction has no other goal than to have the "poetry" of a heavy colossus float and turn around. DETAIL is in this sense a pointless use of knowledge and material which makes it even all the more alienating. The question can also be put forward as to whether many other developments that we call 'technical progress' really do help the world. The destructive potential of ever greater, faster, more efficient and automatic algorithms, processors, motors and fire power assert their influence on a daily basis in wars and in the depletion of our planet. Where is technological knowledge taking us and does it make us able to handle the problems of our age for the most part caused by 'technological progress'? DETAIL is then also a stationary situation: frozen, hanging in the air, turning in circles in a vacuum.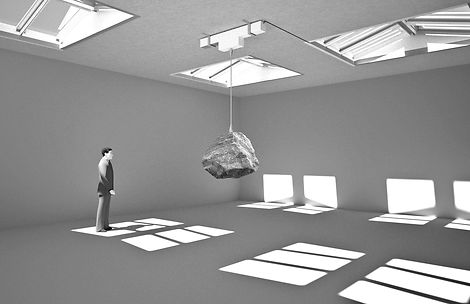 Kris Verdonck, DETAIL