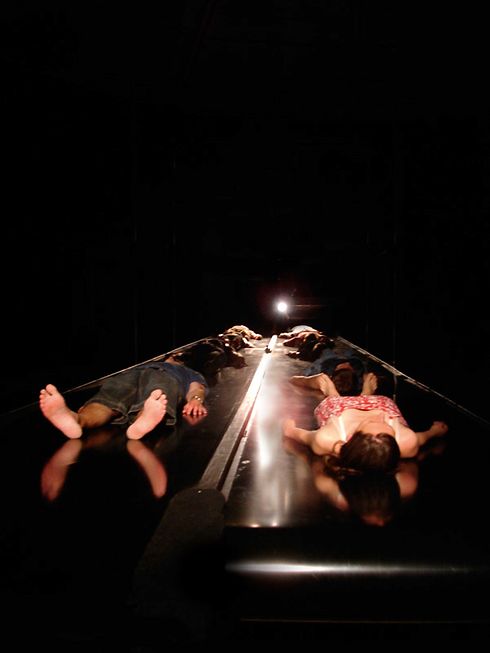 Lawrence Malstaf, Transporter 02008
From gallery to art office
With the ambition to explore new paths and to extend its activities beyond the traditional concept of an art gallery, Tallieu Art Office & Ischa Tallieu continue to build upon the experience and achievements within the context of a promotion gallery.

From 1989 until 2014, Galerie Fortlaan 17 earned its position in the contemporary arts world, constantly reinforcing its reputation thanks to high-profile exhibitions, projects, publications, involvement in international art fairs, performances, debates and lectures.

Tallieu Art Office works in various fields such as visual, installation and new media art, contemporary classical music, sound art, music and performing arts with a special interest in transdisciplinary projects and a focus on selection, promotion, exhibitions, networking, consultancy, expertise and representation.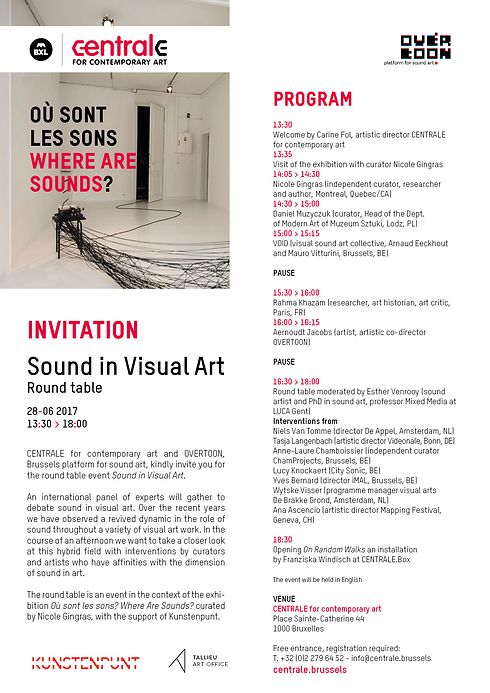 Sound in Visual Art
15.06.2017
INVITATION Round table
Sound in Visual Art
28 June 2017 13:30 > 18:00
CENTRALE for contemporary art and OVERTOON, Brussels platform for sound art, kindly invite you for the round table event Sound in Visual Art.
An international panel of experts will gather to debate sound in visual art. Over the recent years we have observed a revived dynamic in the role of sound throughout a variety of visual art work. In the course of an afternoon we want to take a closer look at this hybrid field with interventions by curators and artists who have affinities with the dimension of sound in art.
The round table is an event in the context of the exhibition Où sont les sons? Where Are Sounds? curated by Nicole Gingras, with the support of Kunstenpunt.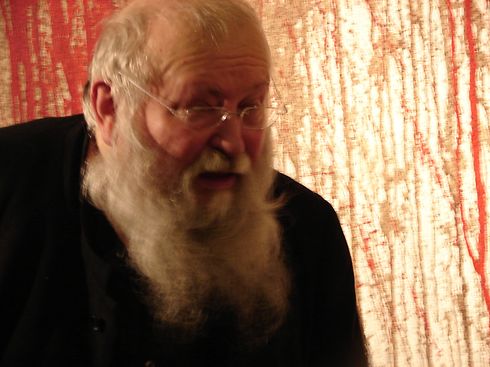 Hermann Nitsch
°1938
Hermann Nitsch (Vienna, Austria, 1938) founded the Orgien Mysterien Theater (OMT) in 1957. With the OMT he takes a step towards the realization of his ultimate aim: a global work of art which is to last for six days and which centres around the themes of the mystery play and orgy. The OMT resulted from Nitsch's involvement with culture and informal and abstract painting, but its origins also go back to the tradition of religious rituals. Nitsch produces his paintings in series. For example, preparing a performance for the OMT, he spills red paint on the canvas which he then works with his hands. For Nitsch, art means catharsis. Painting is an energetic process which emanates from direct expression. Red, as a symbol of joy, ecstasy, fire and blood, is his favourite colour. Nitsch is also one of the leading figures of the Wiener Aktionismus, a movement, which, like the 'happenings' of the sixties, sought to break new grounds.
The significance of Nitsch's work has long been recognized. Already in 1972 he was invited to participate in the Documenta, and in 1982 he participated again. On the occasion of the world exhibition in 1992 in Seville, a retrospective exhibition of his work was organized, which then travelled to various cities, like Vienna, Rome, Luxembourg, Palma de Mallorca, Linz,... In 1995 the Viennese opera invited him to collaborate on the production of Jules Massenet's opera 'Hérodiade'. He took care of the setting, costumes and direction. The '6-Tage-Spiel' (six-day play) was staged for the first time in Prinzendorf in 1998. In 2007 the Hermann Nitsch Museum opened its doors in Mistelbach (AT).

To Artist