News & Agenda February 2019
Annelies Van Parys
USHER
première
14 February 2019
until 10 March 2019

Folkoperan, Stockholm (SE)
The unfinished opera USHER by Claude Debussy has now been completed by Belgian composer Annelies Van Parys. It was commissioned by Folkoperan and Staatsoper unter den Linden in Berlin, where it premiered on October 12th. The production opens at Folkoperan with a Swedish cast on February 14th, 2019. For the libretto she worked together with the Belgian writer Gaea Schoeters who made a clever reworking on the existing material and completed the rest of the story, focussing more on the political aspect of fear as a tool to control people.
USHER staged by Philippe Quesne, takes us to a dilapidated house reminiscent of many high profile horror films from the 1980's. We are invited to an orchestrated chamber piece in a house over which a curse has been cast. It is home to sister and brother Madeline and Roderick, the last surviving members of the former powerful Usher family, completely isolated from the surrounding area. Paralysed by an inexplicable fear, they fight for their survival. The question is what does this fear and terror consist of, and who gains from the fear of never leaving the House of Usher?
"… a thrilling new opera… There's a touch of Hitchcock and a lot of David Lynch in the visual aesthetic… Marit Strindlund conducts with a combination of coherence, order and sensuality that matches the score perfectly…"/Financial Times
https://www.anneliesvanparys.be/newsletters/13/
https://www.folkoperan.se/english/usher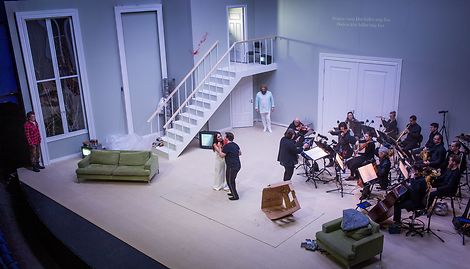 ©Mats Bäcker
Lawrence Malstaf
Double Compass
solo exhibition
TETEM, Enschede (NL)
Until 5 May 2019
Compass is an orientation machine to wear around your waist. It directs you left and right while walking. It guides you through virtual corridors, rooms and doors programmed in the physical exhibition space, or any location. The apparatus imposes an attraction or repulsion on your waist, like you are in a magnetic field. You can explore this environment and discover a tactile architecture. The machine is programmed to make you follow an invisible map but you can choose between resisting to the machine or giving in and letting yourself be guided.
For the solo exhibition Double Compass at TETEM, Lawrence Malstaf developed a second machine, both Compasses not only follow an invisible map, but also interact with each other.
https://www.tetem.nl/portfolio/double-compass/
http://lawrencemalstaf.com/_work/compass.html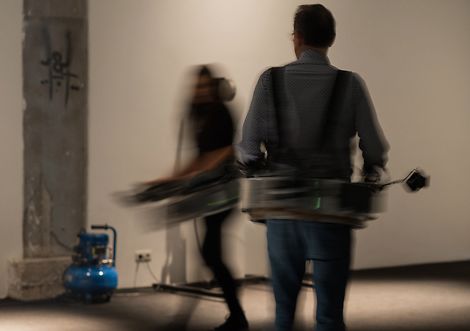 Double Compass at TETEM ©Christina Bakuchava
Lawrence Malstaf
Spheres 02015 & Utopia 02018
performance
28 February 2019 - 00:00

Baile do Sarongue, Rio de Janeiro (BR)
SPHERES 02015 - Large white spheres float around in a quiet and dark space. They seem to defy gravity as they rise and fall in slow motion like fragile planets or unknown deep sea creatures. A performer is activating the spheres in an endless Sisyphian choreography.
UTOPIA 02018 - Utopia is a large kinetic structure composed of lightweight aluminium tubes hanging from thin wires. Via a mechanism of small counterweights and motors it becomes an organic cloud that transforms itself slowly through different states of unstable equilibrium. Utopia is a site specific work with variable dimensions and is constructed mainly with local materials.
http://lawrencemalstaf.com/_work/spheres.html
http://lawrencemalstaf.com/_work/utopia.html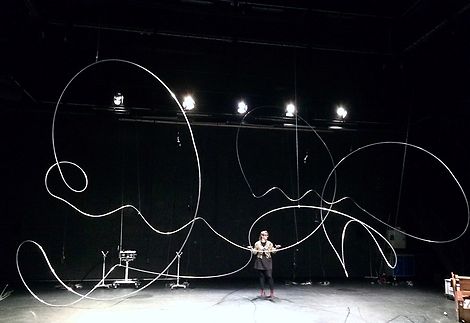 Utopia 02018
Teun Vonk
A Sense of Gravity
Première
30 March 2019
until 7 April 2019

STRP Biennale, Eindhoven (NL)
A Sense of Gravity premieres at STRP Biennale on 30 March 2019. This immersive installation offers you the sensational bodily experience of defying gravity.
The project A Sense of Gravity started with Teun Vonk questioning: How can I challenge the logic of gravity, of the bodily perception of gravity, with a machine or installation? Can I expand the boundaries of our everyday perception of gravity?
A Sense of Gravity is based on artistic research and interdisciplinary collaborations, blending the boundaries between science, technology, design and visual art

While being immersed in the installation, the viewer experiences a bodily sensation of weightlessness. This experience causes a new perspective and perception of gravity on an individual level. With a Sense of Gravity, Teun Vonk creates awareness of our human sensibility and new perspectives on the relevance of our physical being in the digital culture of the future.
https://strp.nl/program/a-sense-of-gravity
https://www.teunvonk.nl/a-sense-of-gravity/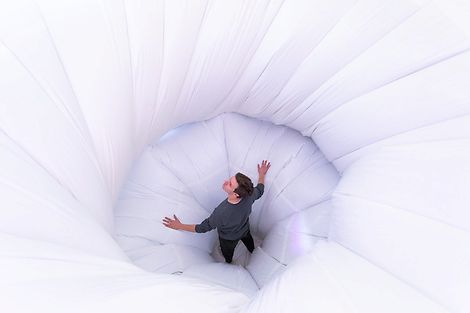 Teun Vonk, A Sense of Gravity ©Floris Braakman