David Bowen
FlyAI
ARS ELECTRONICA 2017 - ARTIFICIAL INTELLIGENCE - THE OTHER I
7 September 2017
until 11 September 2017

Postcity, Linz (AT)

FlyAI creates a situation where the fate of a colony of living houseflies is determined by the accuracy of artificial-intelligence software.


Ars Electronica 2017
David Bowen

David Bowen, FlyAI, 2016
Lawrence Malstaf
Polygon
Polygon, a new installation by Lawrence Malstaf, premiered at RakettNatt in Tromsø (NO).

Polygon 02017 is a large kinetic structure composed of lightweight articulating tubes hanging from thin wires. Via a mechanism of motors and counterweights it becomes a geometric landscape that moves organically and adjusts its shape and balance unpredictably.


Video Polygon
Lawrence Malstaf

Lawrence Malstaf, Polygon 02017
Haugen Productions - Lawrence Malstaf - Per Martinsen
PUST/EXHALE
Dansens Hus, Oslo (NO)

To breathe is the first and last we do.
We breathe about 1000 liters a day. Without breath, no life.

PUST/EXHALE that aims to bring attention to breathing as an interactive element, connecting us all.
Dance by Liv Hanne Haugen. Electronic sound performed live by Per Martinsen.
Textfragments by nutrionist Vibeke Thorp. Installation by Lawrence Malstaf.


Dansens Hus

PUST/Exhale
LAWRENCE MALSTAF
OVERVIEW
BUBBLING UNIVERSES - FILE SÃO PAULO 2017 - GROUPEXHIBITION
FIESP, São Paulo (BR)

Until 3 September 2017


Overview 02016 - Astronauts who were able to observe planet earth from outer space for the first time, all experienced a strong emotional reaction later called the overview effect. A euphoric feeling of onness with the planet and all living beings as a collective biotope where 'my molecules are yours and vice versa and individuality seems an illusion.


Lawrence Malstaf - Overview
FILE 2017 - Bubbling Universes

Lawrence Malstaf, Overview 02016 at FILE 2017 - Photo: Camila Piccolo
OÙ SONT LES SONS? WHERE ARE SOUNDS?
CENTRALE FOR CONTEMPORARY ART & OVERTOON
CENTRALE for contemporary art
Sint-Katelijneplein - Place Sainte-Catherine 44
1000 Brussels (B)


Until 10 September 2017

Où sont les sons ? Where Are Sounds? is an exhibition in collaboration with Overtoon, platform for sound art, curated by Nicole Gingras, an independent curator interested in the links between sound and image, and in listening as a means of relating to the world.

ARTISTS
Christoph De Boeck (B) - Raymond Gervais (Québec, CA) - Aernoudt Jacobs (B) - Anne-Françoise Jacques (Québec, CA) - Rolf Julius (D) - Yann Leguay (FR/B) & Gaëtan Rusquet (B), Bernhard Leitner (AT) - Lawrence Malstaf (B/NO) - Dominique Petitgand (F) - Martin Tétreault (Québec, CA) - dieb13 (AT) - Davide Tidoni (IT/B) - Katerina Undo (GR/B) - Floris Vanhoof (B) - Franziska Windisch (B/D).
CENTRALE for contemporary art
OVERTOON
Lawrence Malstaf - The poetics of immersion
FILE SOLO at CCBB, São Paulo (BR)
FILE SOLO
CCBB - São Paulo (BR)

Until 18 September 2017

FILE - Festival Internacional de Linguagem Eletrônica and CCBB come together to present an individual exhibition by the Belgian artist Lawrence Malstaf, as the inaugural show of FILE SOLO, confirming the expansion of FILE Festival, that is now in its 18th year.


Lawrence Malstaf, Nemo Observatorium, 02000 - 02002 - Photo: Camila Piccolo
The International Festival of Electronic Language has created a project exclusively for the CCBB-SP, called the FILE SOLO, that aims to display a set of works by a specific artist, and explore the interdisciplinary relationship between technology and creativity. This new type of show, FILE SOLO displays six installations by Belgian artist Lawrence Malstaf on the ground floor and three other floors of the historic CCBB - SP building. 

"Even though digital art and transdisciplinarity in the arts is a new field of knowledge - dating from the 1990s - it can be said that a number of artists have firmly established themselves in the area, as is the case with Malstaf. He works in the inter-relationship of the visual arts with performance, using technology as inspiration for his projects. The FILE SOLO project has decided to present the rise of Lawrence Malstaf due to the interdisciplinary and innovative nature of his poetics. The development of the artist's work over the past 20 years relates to the coming of age of the FILE festival, now in its 18th year. Lawrence's work straddles various languages, and today combines works that consider the role of the viewer, challenging them to take an active part in the pieces", explains the organizer of FILE, Paula Perissinotto.
FILE SOLO - Lawrence Malstaf
CCBB São Paulo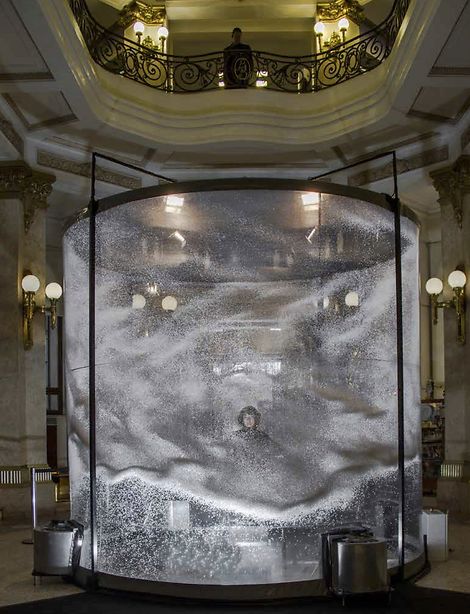 Lawrence Malstaf, Nemo Observatorium, 02000 - 02002 - Photo: Camila Piccolo