Où sont les sons? Where are sounds?
Centrale for Contemporary Art & Overtoon
Brussels
20 April 2017
until 10 September 2017


OPENING - VERNISSAGE: 19 April 2017 - 18:00

CENTRALE for Contemporary Art
Sint-Katelijneplein - Place Sainte-Catherine 44
1000 Brussels (B)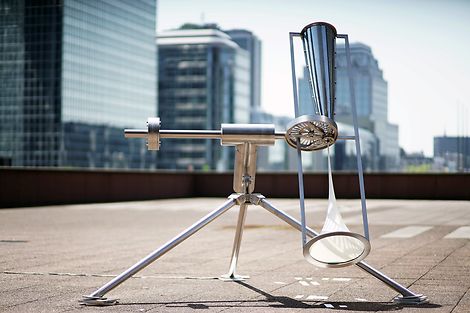 Aernoudt Jacobs - Heliophone ©Aneil Karia
/E/
Où sont les sons ? Where Are Sounds? is an exhibition put together by Nicole Gingras, an independent curator interested in the links between sound and image, and in listening as a means of relating to the world. With regard to this exhibition, the curator comments: "Where are sounds? Where are they going? This double question, so simple at first sight, reveals several essential aspects specific to listening, including the predispositions of listeners at all sound events. The exhibition also allows us to examine the ways in which sounds manifest themselves and travel through a given site, in public places or during our daily wanderings. Several artists have explored these issues. Some work in sound, probing the intensity of sonic masses, while others are interested in noise or aural traces; still others focus on silence, the near-inaudible or imperceptible. Finally, some convert a sound phenomenon into an object, a sculpture or temporal experience. Où sont les sons ? Where Are Sounds? suggests that it is not only possible to hear a sound, but also to see it, touch it, be pervaded by it."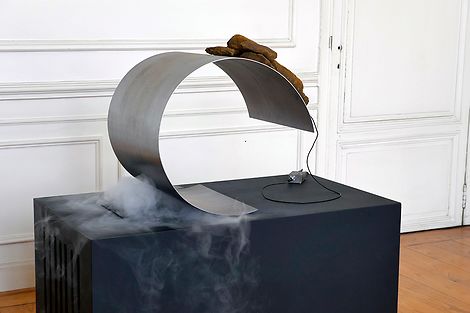 Christoph De Boeck - Golfvorm ©Dorna Aslanzadeh
/NL/
Où sont les sons ? Where Are Sounds? is een tentoonstelling samengesteld door curator Nicole Gingras. Ze gaat op zoek naar verbanden tussen beeld en geluid en vraagt zich af hoe je de wereld kan ervaren door te luisteren. De curator weet ons het volgende te vertellen over de tentoonstelling: "Waar zit geluid? Waar gaat geluid naartoe? Het lijken eenvoudige vragen maar ze leggen cruciale aspecten bloot van het luisteren. Denk maar aan de spontane neiging van mensen om bij een onverwacht geluid de oren te spitsen en te luisteren. Bovendien laat het ons nadenken over hoe geluiden ontstaan en hoe ze zich voortbewegen in een bepaalde ruimte, op openbare plaatsen of tijdens onze dagelijkse verplaatsingen. Verschillende kunstenaars gingen de uitdaging aan: sommigen spelen met klanken en concentreren zich op de intensiteit van een geluidsmassa, anderen geven de voorkeur aan ruis. Nog anderen staan dan weer stil bij de sporen die geluiden nalaten, bij de stilte, het vrijwel onhoorbare of het nauwelijks waarneembare. Tot slot zijn er ook kunstenaars die een geluidsfenomeen vertalen naar een voorwerp toe, een beeldhouwwerk, een vluchtige ervaring. Où sont les sons ? Where Are Sounds? toont ons hoe een geluid niet alleen hoorbaar is, maar ook zichtbaar, tastbaar of aanwezig bij elke aanraking."
/FR/
Où sont les sons ? Where Are Sounds? est une exposition élaborée par Nicole Gingras, commissaire intéressée par les liens entre le son et l'image, et par l'écoute comme mode de relation au monde. À propos de cette exposition, la commissaire confie : "Où sont les sons ? Où vont les sons? Cette double question en apparence simple révèle quelques aspects essentiels propres à l'écoute, cette disposition de l'auditeur pour tout événement sonore. Elle permet également de se pencher sur la manière dont les sons se manifestent et se propagent dans un espace donné, dans des lieux publics ou lors de nos déambulations quotidiennes. Plusieurs artistes se sont penchés sur ces questions. Certains travaillent dans le son, abordent l'intensité d'une masse sonore ; d'autres privilégient le bruit. D'autres encore s'attardent à la trace ou apprivoisent le silence, le presque inaudible ou l'imperceptible. Certains enfin traduisent un phénomène sonore en un objet, en une sculpture, en une expérience temporelle. Où sont les sons ? Where Are Sounds? évoque qu'il est non seulement possible d'entendre un son, mais aussi de le voir, de le toucher ou d'être habité par ce dernier".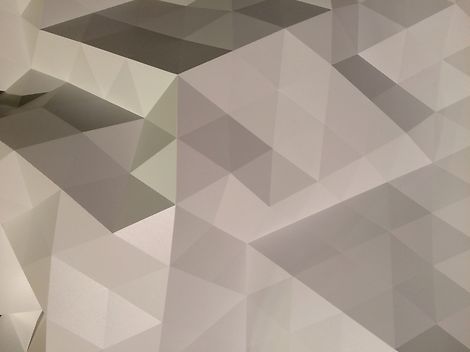 Lawrence Malstaf - Folding
Artists - Kunstenaars - Artistes
Christoph De Boeck (B) - Raymond Gervais (Québec, CA) - Aernoudt Jacobs (B) - Anne-Françoise Jacques (Québec, CA) - Rolf Julius (D) - Yann Leguay (FR/B) & Gaëtan Rusquet (B), Bernhard Leitner (AT) - Lawrence Malstaf (B/NO) - Dominique Petitgand (F) - Martin Tétreault (Québec, CA) - dieb13 (AT) - Davide Tidoni (IT/B) - Katerina Undo (GR/B) - Floris Vanhoof (B) - Franziska Windisch (B/D).
This large-scale project came about following an invitation that OVERTOON, a Brussels-based platform for the production and dissemination of sound art, extended to Nicole Gingras, a curator who lives in Montreal and is well-known for her investigations of images, sounds and kinetic art. The project stems from a partnership between OVERTOON and CENTRALE.
Où sont les sons ? Where Are Sounds? is
supported by the Région de Bruxelles-
Capitale and the Conseil des arts et des
lettres du Québec.